To Index Home Page
---
After my time at University and Art College, my main creative work for about fifteen years was with painting, print-making, and portraiture in various media.
Some of the things I make...
---
Panel painting: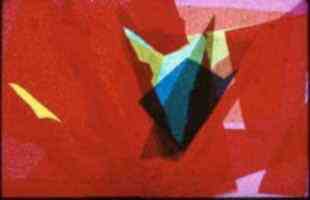 0ne of a series in 1960

---
Portraiture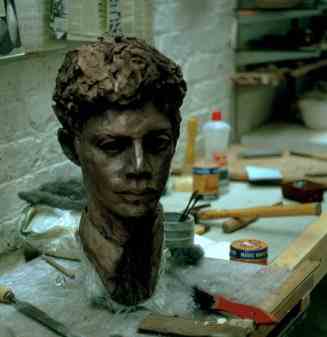 Michael Mahanga (1968) Polished cold-cast copper.

---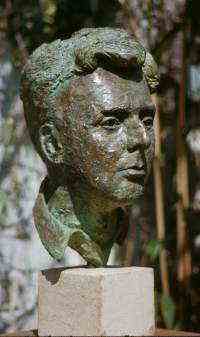 Max Bellancourt (1972) Patinated cold-cast bronze.

---

From 1958 to 1969 I also lectured on art techniques and history at London Colleges. I then changed tracks in 1969 and managed to get a place on the Harrow Studio Pottery Course at Harrow Art School. In the 60's and early 70's this course had the cream of British potters teaching the craft and techniques of pottery very seriously: throwing, glaze technology and kiln building. It was an exciting time in British Ceramics.
I have mixed feelings about the substantial changes to the course in later years; it became transmogrified into a Ceramics course in the Art & Design Faculty of Westminster University, London).
---
As a student, I was fortunate to meet and work for David Leach for a short time. The experience was a turning point for me. He was an excellent teacher and became a good friend.
---
My pot stamp:
---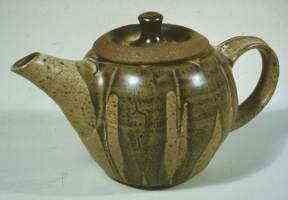 Stoneware teapots
---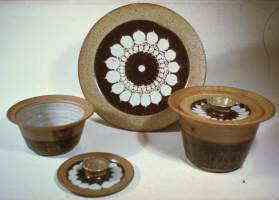 Thrown functional stoneware
---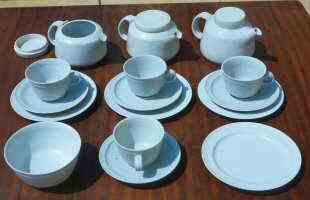 and porcelain,
---
Non-functional forms: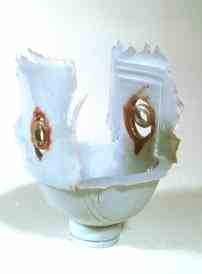 A series of winged slab press-formed bowls in porcelain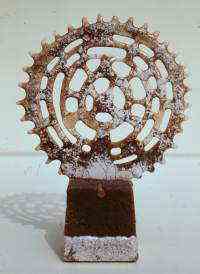 ..and "symbols" in raku-ed Porcelain.
---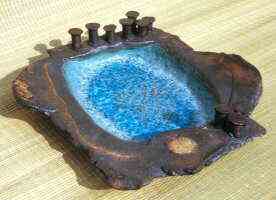 various dish forms in stoneware and porcelain
---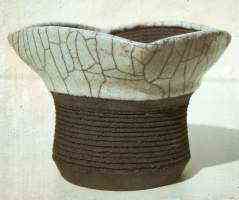 A series of thrown raku pot forms in smoked black and crackle white glaze
---
My first enterprise after leaving Harrow and David Leach was to renovate a derelict old farmhouse in the Landais forests in SW France.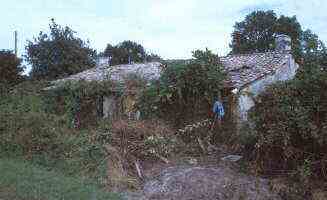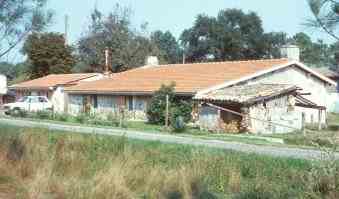 and then build my workshop alongside.
---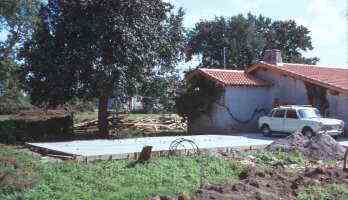 I worked on the derelict property mostly alone but with assistance from visiting students and local fishermen!

---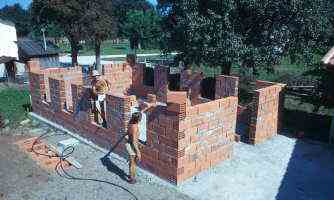 ---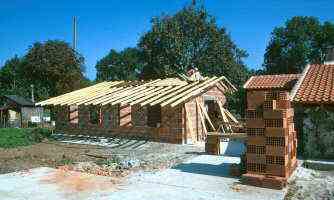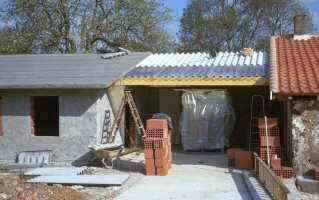 A couple of years on...

---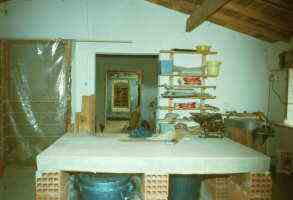 I was making thrown domestic reduced stoneware from local clay body and fired my kiln with propane.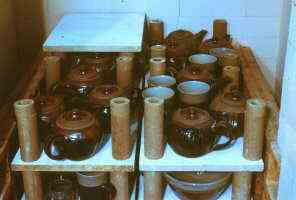 ---
---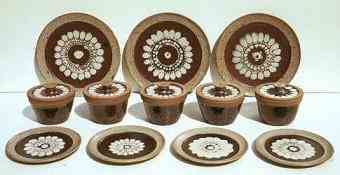 ---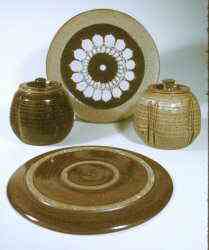 ---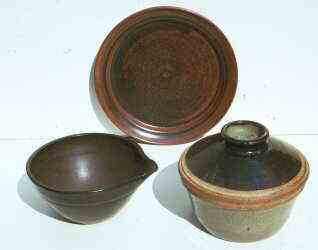 ---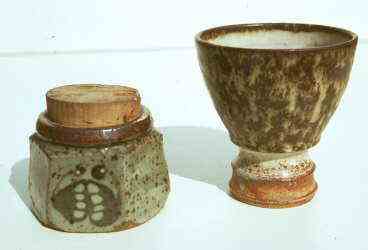 ---
Making reduced stoneware pottery in France for eight years was a valuable experience, but with the 80's a change of direction was needed...
---
I have had a home in Kingston-upon-Thames near London UK. since the 60's.
---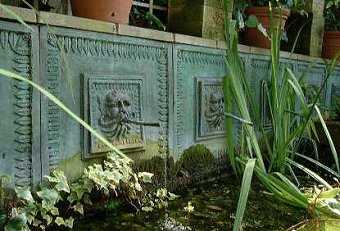 These wall fountains(1965) in my garden were modelled in plasticene and cast in cold-cast copper from plaster moulds. Formal gardens with fountains and water features have interested me for many years - particularly the small Italian and Spanish ones which trickle gently from a wall rather than gush and splash.

---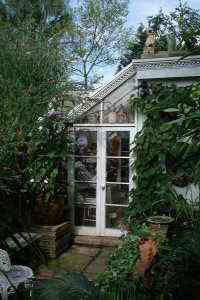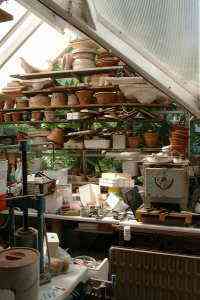 I rebuilt and reorganised my workshop in the 80's.
---
---
From then on became more interested in the techniques of unglazed architectural/garden sculpture and terracotta.
---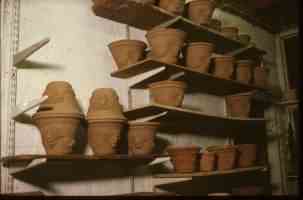 Small sprig decorated terracotta pots drying.
---
---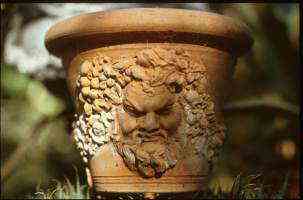 Sprigs on a satyr head pot
---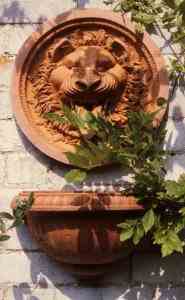 Lion head wall spout with basin.
---
---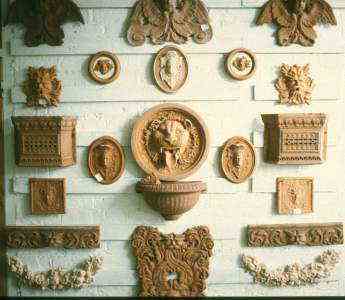 Workshop wall display of a range garden/architectural terracottas
---
---
---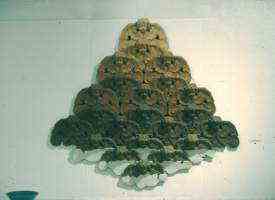 Composite Wall Sculpture "God Squad I"
---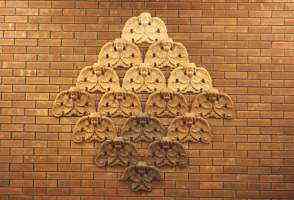 A Version for Kingston Baptist Church
---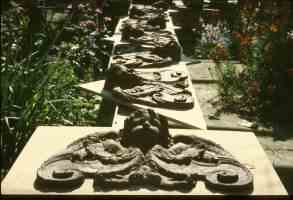 First modelled in plasticine and then press moulded from plaster moulds - Set of Scroll Cherubs drying
---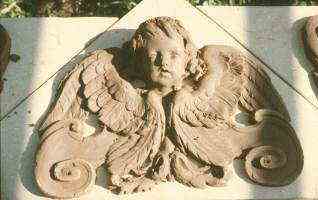 A Scroll Cherub drying
---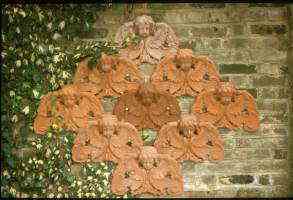 Cluster of Scroll Cherubs on garden wall.
---
If you're still curious, click on my pic... or return to the Home Page


---


To Index Home Page