To Index Home Page
Sorry, that particular tutorial page is not yet ready.


Eight Tutorials covering
Prehistoric & Ancient Ceramic Cultures are on line
The first four tutorials on Chinese Ceramics are now online.
My latest contribution as of February 2011 is
Tutorial No.12 part 1.
Classical Imperial China
Ceramics of the Sui and Tang Dynasties.

The next upload will cover
Part 2 of Ceramics of the T'ang Dynasty.

I am building the 30 tutorial pages of this Web Site in numerical sequence. So, as of now, many tutorials will still not be available for some time. But, rest assured, they will appear.








To Index Home Page
Many of you will realise that putting together such a series of illustrated Web Tutorials is a time-consuming project. Although I enjoy designing and building the site, there are quite a lot of different tasks involved; reorganising lecture material for text, choosing and scanning my slides, much new camera work in museums, image making, designing, checking, testing - the days, weeks pass! The latest one (China 4 part 1) proved a heavy committment. I hope it was worth it.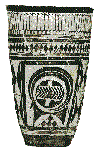 Victor Bryant
23rd January 2011



To Index Home Page